Motocultor Bertolini 417S
El Bertolini 417S walking tractor has a Vanguard 18 engine which gives us a power of 18HP. This tiller is compatible with the 80cm strawberries and the 6.5 / 80 – 12″ DR. The motorized tractor bertolini 417S with Kohler engine. It has a weight with accessories of up to 250 kg. It also has dimensions of 120 cm x 82 cm x 163 cm. This tiller comes with a handlebar mustache adjustable in height and width, 180 ° reversible, with anti-vibration device
In addition, the motocultor offers us a independent power take-off 2-speed (540 RPM and 900 RPM) and a synchronized power take-off. This model works through a transmission with gears in oil bath. This machine is designed for professional use thanks to its rated power. Its characteristics recommend it for the collection of roots and for carrying out tillage tasks in all types of terrain.
El 417S walking tractor provides 5 speeds different, four speeds to advance and a single speed to reverse. It has a differential, reverse gear with shift lever, a dry multi-disc or single-disc clutch.
Features
Motor Vanguard 18
Displacement 570 tsp
Size of the strawberry 80 cm
Brakes Si
Hitch tow Si
Speeds Five (four forward and one reverse)
PTOs Independent 2 speeds (1st 540 rpm – 2nd 900 rpm) and one synchronized
Dalinian mustache adjustable in height and width, reversible 180º and with anti-vibration device
Cover with integrated tool compartment / battery box
Transfer with gears in oil bath
Clutch Dry multidisc or single disc
Attachment of accessories flanged to the TDFWeight (with gasoline engine, rotor and wheels) 250 kg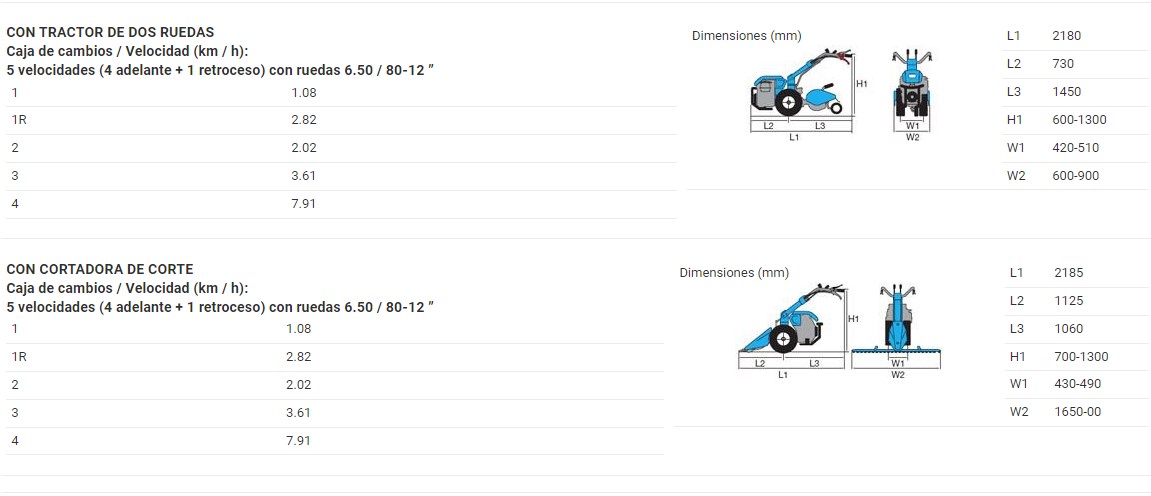 Difference between the oil bath clutch of other brands and the Bertolini dry multi disc clutch


Clutch brake in oil bath (Other brands) Drawbacks


Hydraulic by the use of oil.
When the machine is full of debris it is more prone to failure.
Practical and functional with good maintenance when needed.
In its first use, it is necessary to change the oil in a maximum of 40 hours.
The engine has a small oil pump which communicates with the clutch device and lubricates it and makes it work. When this oil is full of debris, the system will stop working and begin to fail.
In the case of poor maintenance the machine begins to fail. The warranty does not cover damage so you will have to take it to the workshop and have it done by a professional.
In certain points of the machine there could be oil leaks.

Bertolini dry multi-disc clutch


Simpler and more mechanical system and the clutch with brake and a force multiplication system without DHS.
This machine is less prone to failure
Mandatory by the customer, check oil and lubrication levels before start-up! If the merchandise cannot be verified at the time of receipt, it must be indicated on the carrier's sheet that the client is satisfied except for pending examination.